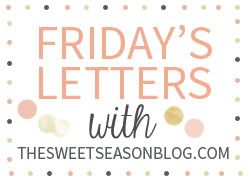 Dear Friday,
You are my FRIDAY this WEEK! Day off tomorrow. WOOT! WOOT!
Dear Hubby,
Thank you for the adorable miniature rose bush and para-cord bracelet for Valentine's Day.
Dear Thursday Night Date Night,
Please Never Stop! I enjoy going out with the Hubby once a week.
Dear Nemo,
I HATE YOU! But it is all good because I got my Canon on Monday.... (Refer to this
post
to know more about my hatred of NEMO)
Dear Weightloss,
Yay! We have lost 11LBS! Since January 1st!
Dear Vacation,
Please come soon and go by slow. I can't wait to enjoy a week of my Hubby's company in Myrtle Beach, SC, Chincoteague, VA, and Philadelphia, PA. This will be our first real VACATION!
We also get to see my extended family, while in Philadelphia. Some of which I haven't seen in several years!
Dear Apartment,
While I am gone to work today please wash the dishes, fold the laundry and vacuum. Thank you, it would be much appreciated!
Sincerely,
Me