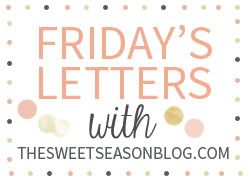 I am linking up with Ashley from over at
The Sweet Season
for Friday Letters. Come Join Us!
Dear Friday,
I am glad you are HERE! This means ONLY 1 week left until we leave on VACATION!
And we get to go see the in-laws TOMORROW!
Dear Hubby,
I LOVE YOU! Thank you for my Birthday Gift, I know I got the early everyone, BUT, I need to use the camera items this weekend! :) (Family Photos)
Dear NEW Camera Stuff,
I CAN'T WAIT TO USE YOU!
Dear FurBabies,
PLEASE PLEASE.... STOP SHEDDING! THANK YOU! Especially Alice!
Dear Grandma P.,
I love you and miss you. I know you are up in heaven smiling down on us, but that doesn't change the fact that I miss you very much.
Dear Mav,
Please don't drive Uncle Dan crazy on Sunday. While I am working. Thank You.