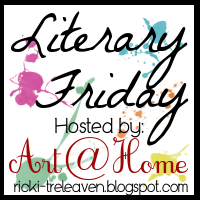 I am joining Ricki form
Art @ Home
for Literary Friday.
Okay so I stumbled upon this gem and I mean GEM of a series, the best thing is the first book Dark Secrets is FREE!
So for all the Twilight fans out there (I am one myself) I beg you to read these books! They are even better than them. In my opinion at least)
Goodreads Synopsis
How can you be attracted to a guy who just said he wants to kill you?

Ara-Rose asks herself the same question. She's been torn away from her old life, thrown into a new one in a new country, and in the midst of death, heartache and depression, she finds herself in love with a vampire—one who kills people with his teeth!

But the vampire is forbidden to fall for this human, and at the point Ara-Rose decides she can't live without him, he pulls away and leaves her falling back to the darkness he woke her from. She will be caught up in a century-old feud among brothers, and the fight for love becomes a fight for her life.

The only question now is whether her beloved vampire will find her in time, or leave her to face a destiny he triggered with their first kiss.
I can't really tell you a lot about this series with out SPOILING it!
These books are very well written. The author does an amazing job of making you feel for the characters. You laugh with them and you cry with them. The first book introduces Ara or Amara-Rose who has lost her mother and little brother under tragic circumstances. You will also meet David who has one very DARK SECRET and several smaller secrets to hide. They fall in LOVE at first sight. Ara may love David but she also has an old flame in the form of her best friend Mike.
Read this book and the sequels to find out how it all plays out. This series is for ANYONE who loves romance, paranormal and just a good book.
PLEASE PLEASE just take my word about it and go download it!
Oh and the 4th book comes out in OCTOBER!
{VIA}
Author:
A.M Hudson